Hi there, it's finally time for a new project. The first one this year. I've got several projects in my head or on the go right now but last weekend I was really inspired by this cowl. The pattern is from a crochet book I got for christmas (and which I badly wished for):
Crochet with One Sheepish
Girl by Meredith Crawford. I've been following
Meredith's blog
for a while now and I like her modern design projects. It's important to me that things I crochet don't look like they're only worn by grandmas and in my opinion she really does the magic.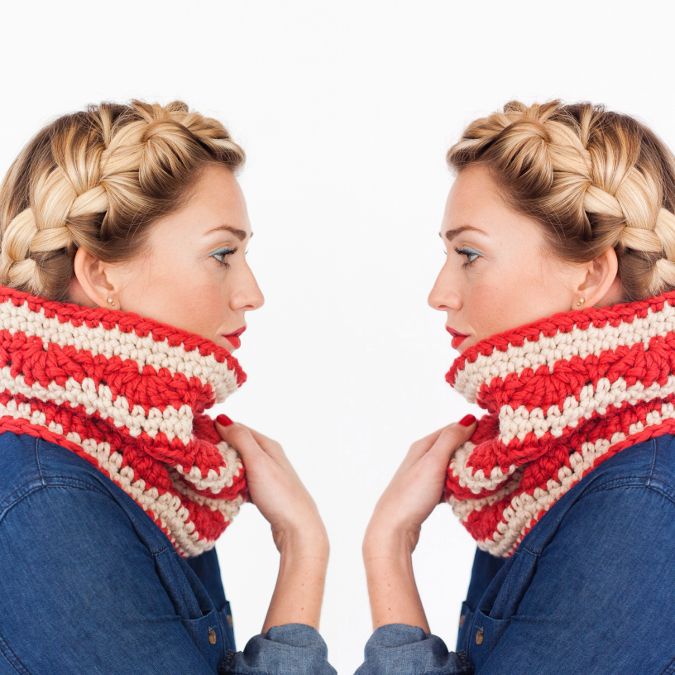 So this is
her Scallop Stripe Cowl
(the photo is from Meredith's book). I chose different colours because I wanted to use some of my yarn stash (see
my goals for 2015
). I found some skeins of
"Rödel Polar"
in my stash which is a super bulky yarn for hook size 9 to 10 mm.
I also think that this combination of dark blue and sunny yellow comes out really nice. It reminds me of the sea and the beach in summer holidays which combines well with the scallop stripes. I've also seen it named as shell stitch.
The cowl is pretty easy to make if you have just a little experience with crochet (and if you don't you can learn it from
Meredith's great book
) plus I think it was quite fast to crochet as you' re using super bulky yarn. Despite the instructions in the book I did only 2 repetitions of the pattern as it was big enough for me as the yarn causes to cowl to stand up (and not to slip down as many cowls do).
So all in all it's a great garment to wear now as it's still winter in Germany and I sometimes need a little reminder of summer. But don't get me wrong - I like snow - but all in good time!